1.11.2010
Daimler Keynoted European Conference 2010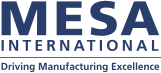 The Keynote presentation at the 2010 MESA European Conference was Process Efficiency by Integration, presented by Stefan Rosenwald, Senior Manager IT Powertrain, Daimler Engine.
Process Efficiency by Integration
The implementation of a IT-supported integrated process for order handling, production and dispatch during the customer order process of the Powertrain plants with simultaneous harmonization and standardization of the system platforms involved is a major objective of the Powertrain organization of the division Mercedes Benz Cars of the Daimler company. A central project for this is the major project assembly control PT, whose mission it is to conceive and introduce a standardized MES system in such a way as to establish the connection between ERP and manufacturing facilities.
In addition to a powerful keynote presentation 2010 European Conference agenda was packed with world class end-user speakers from all industries.
Attendees has learnt how MES can impact their business through real-life cases shared by leading manufactures and producers from all verticals.
The conference agenda provided insights into vertical and best practices beyond domain was highly inspiring to innovate in any industry with concepts which have proven their value already in other verticals.