4/11/2010
Hydrus Luna: Shedding the Perfect Light on Data Collection

The Hydrus Luna GPS offers all of the features of the Hydrus Luna with the added benefit of optional Integrated GPS...with cutting-edge horizontal positioning accuracy and optimum antenna position for sky visibility. Add your custom instrumentation, meters and electronics with the Hydrus PACK!
Give your mobile workforce the benefit of a custom keypad with intuitive, application-specific graphics. Shorten training time, improve user efficiency and reduce costly errors...all while strengthening your corporate identity. Customize colors, keypad graphics, case graphics and much more!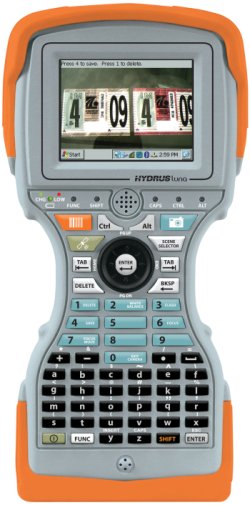 INTEGRATED GPS FOR PRECISE LOCATION COLLECTION
The ultra rugged Hydrus Luna GPS offers integrated Precision GPS for accurate proof no matter where you roam. Connect images with a precise location, time and date all while keeping data secure.
Cutting-edge Horizontal Positioning accuracy 2.5m CEP
Integrated uBLOX GPS with SuperSense and KickStart
50-channel uBLOX 5 engine with over 1 million effective correlators for great accuracy & super low SNR performance
Active Patch Antenna technology for superior signal reception and out-of-band noise rejection
Optimum antenna position for sky visibility and user operation of Hydrus Luna
Fastest Time-To-First-Fix in the market with the highest sensitivity for hot and aided starts
Technical Specifications
IMAGER:
5MP True-Camera-System captures color images and bar codes with auto focus and powerful Xenon True-Flash-System
OS/PROCESSOR:
Microsoft® Windows® CE 5.0, Marvell XScale® PXA270 Processor - 624MHz
MEMORY AND MASS STORAGE:
256MB SDRAM Standard, 2GB FLASH (up to 32GB)
WIRELESS CONNECTIVITY:
Integrated WLAN 802.11b/g and Bluetooth®
BATTERIES:
Dual Smart Battery System 40+ Hours Battery Life (actual time may vary based on a variety of conditions)
RUGGEDNESS:
IP67/IP68 Rated, Drop and Shock Protected
DISPLAY:
320 x 240 Landscape QVGA with Integral Touch Screen, Super-Sunlight readability outdoors and indoors
KEYPAD:
55-Key Alpha-Numeric Keypad plus joystick control
PACK OPTIONS:
Optional GPS, RFID, or your proprietary electronics, instrumentation, probes, sensors.