12/8/2011
Coca-Cola to Keynote MESA's North American Conference 2011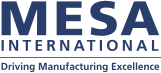 The Keynote presentation at the 2011 MESA North American Conference will be presented by Chris Gaffney, Senior Vice President Product Supply System-Strategy,
Coca-Cola Refreshments
. Hear Mr. Gaffney talk about
end-to-end business processes
,
touching supply chain
and
manufacturing operations
.
In addition to the keynote presentation occurring on Wednesday, Coca-Cola will also be hosting a session on Real Time Brand Management:
The Demand for Operations Intelligence through Enterprise Manufacturing Intelligence (EMI)
.
MESA International 2011 North American Conference
September 19-21 | Orlando, FL
'Cloudy with a Chance for Profits
Cut through the clutter. Achieve real-time operations excellence.'
Real-time operations excellence IS within your grasp. Hear industry leaders share real-world experiences about maximizing returns within their operations. Focus on educational sessions and networking opportunities that discuss real-world best practices. Understand from your peers how they're managing and solving common challenges such as obsolescence, aging workforces, regulatory changes, quality, energy management and the competitive pressures to improve operations and drive profitability.
Whether "the cloud" you live in is Corporate Information Technology or the fog of your plant's day-to-day Operations, the MESA community delivers the best forum in the industry for you to move your business forward.
More information about the event can be found at
www.mesa.org
Read more